Age-Related Macular Degeneration
Over 50? Family history? Schedule a simple test to help preserve your vision.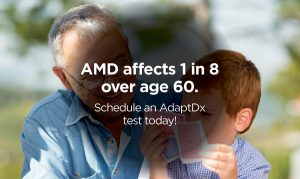 AGE-RELATED MACULAR DEGENERATION (AMD) is the leading cause of vision loss among older adults, affecting more than 11 million Americans. AMD is a progressive disease that causes the macula to slowly deteriorate. The macula is responsible for your central vision, which allows you to read, watch TV, recognize faces, and drive.
Early AMD doesn't have obvious symptoms. Studies estimate that nearly 80 percent of people with AMD have substantial, irreversible vision loss before their first treatment. The Eye & Sight Center is proud to have state-of-the-art AdaptDx early detection technology in both our Voorhees and Woodbury Heights offices. This simple, non-invasive test can determine if you have early-stage AMD before it causes significant, permanent vision loss.
Risk factors which make you more likely to suffer from AMD:
Age 50+
Family History of AMD
Smoker
Caucasian
Overweight
Heart disease, high blood pressure or high cholesterol.